Paper Coater (Paper Coating Machine)
Description:
The paper coater, also called paper coating machine, is typically designed to improve the surface properties of paper sheet to be smooth and good for printing in paper making industry.
This paper coating machine is mainly comprised of blade coating device and air drying and heating system. And in the following, detailed information about the two components of this paper coater will be discussed.
For the blade coater of this paper coating machine, the metering device of the blade is designed with combined blade head and interchangeable structure of blade and flexible rod. Roll coating mode is designed for this blade. Special pan structure and pore coating mode ensure good coating circulation for this paper coater.
Our hot air drying and heating system of our paper coating machine falls into two types: one-side hot air drying type and two-side flotation hot air drying type. The one-side type is typically suitable for drying paperboard. Both injection gap and injection pore can be used to jet air, and the heating system can be built-in as well as external. The two-side flotation hot air drying type is mainly used to dry tissue paper like coated paper and writing paper. And the special designed injection gap structure for this paper coater ensures its high drying efficiency.
In the following, detailed information will be given about our combined blade coater, 3400-6000mm blade coater, 2400-3200mm blade coater, as well as the structure of coating pan.
Combined Blade Coater:
This combined blade paper coating machine is especially suitable for coating various paper sheets and paperboards with water-soluble coatings.
The combined blade paper coater mainly consists of coater framework, backing roll, coating roll, coating pan, blade metering unit, curved roll, backing roll sprayer, coating roll deckle machine, and pneumatic control system. And its coating layer has high solid content and smooth surface, and its processed paper sheets have good printability. Besides, the pneumatic control system of this paper coating machine is controlled by the PLC (Programmable Logic Controller), which is easy, safe and reliable to operate, as well as convenient to maintain.
3400-6000mm Blade Coater:
Our 3400-6000mm blade paper coating machine employs air cylinder and hydraulic cylinder to elevate its metering device and pan, and its coating device uses pneumatic and hydraulic lifts. The diameters of its backing rolls range from 800 to 1000mm, and these rolls are matched with SKF or NSK bearings. The diameters of its coating rolls vary from 350 to 450mm, and these rolls are also matched with SKF or NSK bearings. The maximum paper sheet width of this paper coater is 6000mm; the designed maximum vehicle speed for this paper making machine is 1000m/min; its coating capacity is from 5 to 15m2; and the solid coating content of this paper coater vary from 58% to 65%.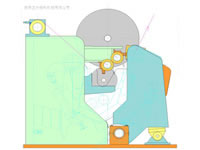 2400-3200mm Blade Coater:
Our 2400-3200mm blade coater employs pneumatic lift mode to elevate its metering device and coating unit and the hydraulic lift mode is utilized for its pan. The diameters of its backing rolls are in the range of 600-700mm, and these rolls are matched with SKF or NSK bearings. The diameters of its coating rolls vary from 320 to 350mm, and SKF or NSK bearings have been equipped for this kind of blade coater. The maximum designed paper sheet width is 3200mm, and its maximum designed vehicle speed is 550m/min. Its solid coating content is 55% to 65%.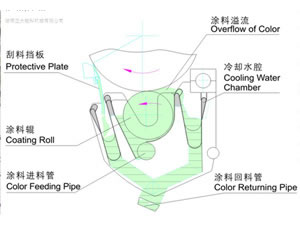 Structure of Coating Pan:
Our coating pan is a kind of sandwich structure welded by stainless steel, so it can be cooled down by water going through the structure. Coating materials can enter into the coating pan through its main pipe. The even coating supply and return capacity can ensure the good circulation of coatings in the pan. There is no blind circulation angle on the coating pan, so there is no coating content change caused by the coating deposition. When cleaned, this coating pan can turned to the cleaning positions by the independent lifting cylinder.
As a professional manufacturer of paper coater in China, Lantytk® Corp can provide a large selection of paper machines, environment protection equipment, and turn key projects for clients all over the world, including pulp machine, closed hood and ventilation system, air supply system, Yankee hood, etc. Our products have been well received by customers from Thailand, Indonesia, Vietnam, Japan, Australia, Russia, Azerbaijan, Egypt, Turkey, France, Germany, the United States, Brazil, and so on. Moreover, OEM service is also available. If you need paper coating machine, please don't hesitate to contact us.
Related Products
Closed Hood of Paper Machine1. The top wallboard of the hood is of sandwich structure, and its special connection structure removes thermal bridges inside the hood, in which way the thermal preservation capacity of the hood is improved.
2. The temperature of the exhaust air from this closed hood can be ...