Through Air Dryer (TAD System)
Description of Through Air Dryer (TAD System):
Our through air dryer, also called TAD, can be used to dry a wide variety of paper, including high-grade household paper, nonwoven fabrics, high-grade industrial paper like sack paper, dust-free paper, and coated paper, as well as special paper like auto filter paper in paper mills.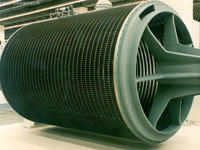 The traditional way to dry paper is to squeeze it first before drying it by cylinder dryer. But our through air dryer can dry the paper via non-contact penetrable hot air after the paper sheets are dehydrated in the wire section. The fiber of paper sheets that have not been squeezed is in three-dimensional distribution, and has good air permeability. As a result, the fiber utilization rate can be improved by 20%, and the water absorbability and dust containing capacities of its processed paper sheets are much better than the ones processed in traditional ways.
Lantytk® Corp is a professional manufacturer of through air dryer in China. Besides through air dryer, we also provide customers worldwide with hot air drying box, air turner, paper workshop ventilation equipment, centrifugal fan, axial flow fan, dust removal equipment, etc. All of our products have been manufactured strictly according to the ISO9001 quality standards. With high quality and competitive price, our products have been quite popular among customers from Thailand, Indonesia, Vietnam, Japan, Australia, Russia, Azerbaijan, Egypt, Turkey, France, Germany, the United States, Brazil, and so on. If you're interested in our TAD system, please contact us freely.
Related Products
Hot Air Drying Box and Air TurnerThis hot air drying box is a kind of newly-designed dryers with circulatory fan and air heater inside.
The nozzles are made of aluminum alloy and stainless steel, so they feature good erection capacity and high-precision forming. In this way, even air supply can be ...