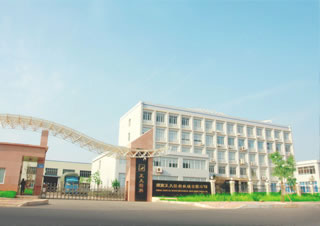 Founded in 2003 and with registered capital of 26, 666, 700 yuan, Lantytk® Corp is a professional manufacturer and supplier of paper production line, drying and ventilation equipment and paper pulp machine in China. We are the earliest and biggest enterprise engaged in the manufacturing of paper drying equipment and air system. Our company covers an area totaling 50,000m2, 15,000m2 of which is the area of manufacturing workshop and 5,500m2 the area of office.
From the very beginning of our establishment, we have been devoted to the research, development, and application of modern paper making, ventilation and drying technologies, and we have been engaged in the manufacturing of pulp machine, coater, closed hood of paper machine, heat recovery system, air supply system, Yankee hood, through air dryer, hot air drying box, air turner, paper workshop ventilation equipment, centrifugal fan, axial flow fan, dust removal equipment, noise control equipment, pulp machine, drying system, crescent tissue making machine, reconstituted tobacco paper making line and special paper equipment. All of our products have been well received by customers from Thailand, Indonesia, Vietnam, Japan, Australia, Russia, Azerbaijan, Egypt, Turkey, France, Germany, the United States, Brazil, and so on.
Our subsidiary ZHEJIANG JINGGONG GROUP is capable of providing a wide variety of ventilation equipment solutions for customers worldwide, including ventilation system analysis, research, development, design, manufacture, and improvement And over the past 20 years, our products have been widely used in paper making, steel, petrochemicals, cement, mining, textiles, and so on. Besides, our subway fans, tunnel fans and mining fans have also been widely used in a wide range of industries. Our centrifugal fans and axial flow fans have been widely exported to Europe, America, Southeast Asia, and so on.

Annual Output Capability of Our Products:
1.Closed hood and ventilation system: 20sets per year
2.Yankee hood system: 16sets per year
3.Through air drying system(TAD): 5 sets per year
4.Pulp machine: 2sets per year
5.Paper workshop ventilation equipment: 10sets per year
6.Centrifugal fan: 200 sets per year
7.Axial flow fan: 500stes per year
8.Turn key project: 1 project per year

Quality Control:
1.We insist on cooperating with many famous scientific research institutes, famous universities, and design institutes in China to carry out technology innovation and development.
2.All of our products are manufactured in strict accordance with ISO9001 quality standards. The whole production process is tracked by our ERP system, including purchasing, manufacturing, quality inspecting, packaging, transporting, installing and debugging.

Service:
1. Turn key projects of pulp machine, tissue making machine, reconstituted tobacco drying machinery, and special paper equipment are available in Lantytk® Corp, and our service scope includes project consultation, project financing, project design, project implementation, project installation, project commissioning, and project training.
2. Pre-sales technical consultation services are provided for clients worldwide, and we also provide specific technical solutions according to requirements of our clients.
3. Our delivery time mainly depends on sizes of projects.
4. We can reply to the quality problems of our clients within 24 ours, and send our service representatives to solve within 48 hours.
5. OEM service is available.
Related Products